Richard Karsten (Chair)
Professor
Department of Mathematics and Statistics
Acadia University
Dr. Karsten received his Bachelor's degree in Applied Mathematics in 1992 from the University of Waterloo and his PhD in Applied Mathematics in 1998 from the University of Alberta. He held a NSERC postdoctoral fellowship at the Massachusetts Institute of Technology from 1998 to 2001. Dr. Karsten's research interests are in tidal energy, physical oceanography, fluid dynamics and computational mathematics.  [Contact information]
Hong Gu
Professor
Department of Mathematics and Statistics
Dalhousie University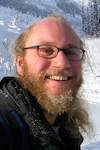 Scott MacLachlan
Professor
Department of Mathematics and Statistics
Memorial University
Dr. MacLachlan received a B.Sc. (Hon.) in Mathematics and Computer Science from the University of British Columbia in 2000 and a Ph.D. in Applied Mathematics from the University of Colorado at Boulder in 2004. After postdoctoral periods at the University of Colorado, the University of Minnesota, and the Delft University of Technology, he joined the faculty of Tufts University in January 2008, and joined Memorial University in July 2014.  Dr. MacLachlan's research interests lie in computational applied mathematics and scientific computation. In particular, his work centers on the development and analysis of finite-element and multigrid methods, typically for PDE-based models of fluid and solid mechanics.

James Watmough
Professor
Department of Mathematics and Statistics
University of New Brunswick
James Watmough received his Bachelor's degree in Engineering Physics in 1989 and his PhD in Applied Mathematics in 1997: both from the University of British Columbia. He held a postdoctoral position at Virgina Tech and a NSERC postdoctoral fellowship at the University of Victoria. He is currently a Professor (Mathematics) at the University of New Brunswick, Fredericton. Dr. Watmough's research interests are in mathematical and theoretical ecology. His current work involves questions in spatial ecology with a particular focus on salt marsh and mudflat communities in Atlantic Canada.