The Ken Ireland Public Lecture: What is a Smart Village?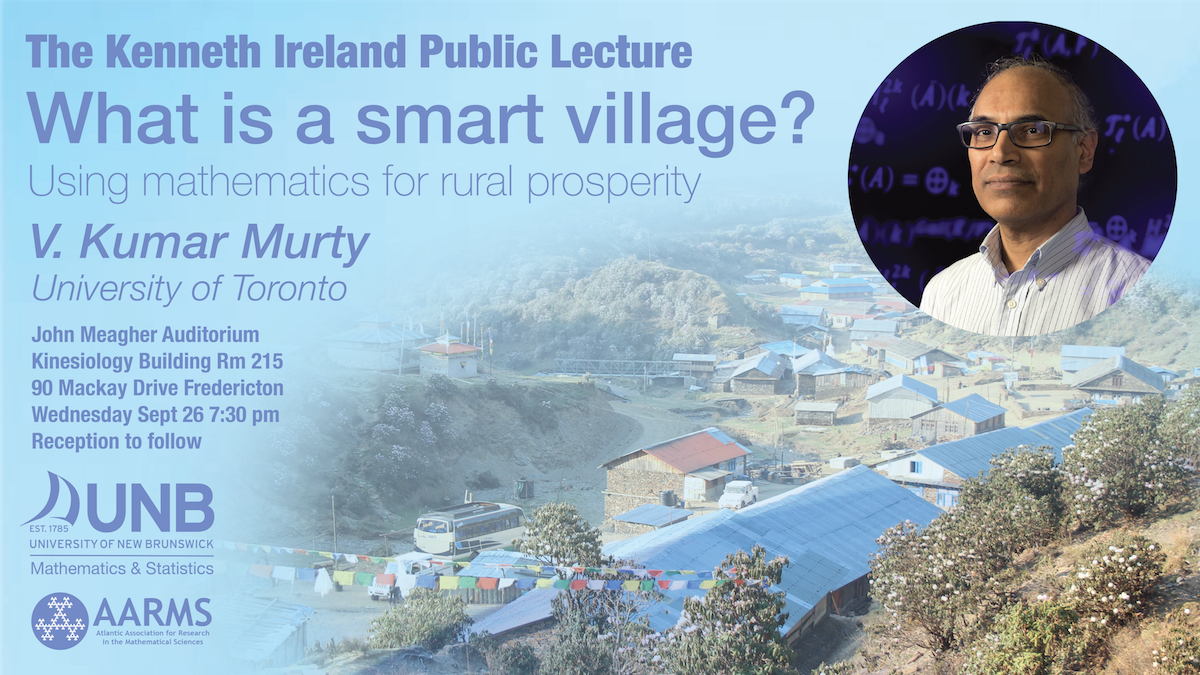 What is a smart village?
Using mathematics for rural prosperity
V. Kumar Murty (University of Toronto)
We conceive of a smart community as one in which static social inequality is minimized. Modelling this mathematically and translating it into a development strategy is one of the big global challenges of our time. When implemented, it will affect 3 billion people, or about half the world's population.
About the speaker: Kumar Murty received his BSc from Carleton University and his PhD in Mathematics from Harvard University. He has been a faculty member at the University of Toronto since 1987. His research is in the fields of number theory, algebraic geometry and their applications to Information Technology. He has published more than 100 papers and 8 books in these areas. He holds two patents and has been involved with a number of startups. His research has been recognized with the prestigious Steacie Fellowship and election to the Royal Society of Canada. During the last nine years, Kumar served as the Chair of the Department of Mathematics and helped create the Centre for Applied Mathematics, to drive mathematical innovation. This year he was awarded the Connaught Global Challenge Award (together with Mariana Prado of the Faculty of Law and Joseph Wong of the Munk School) to study a scalable architecture for smart villages.
About the Ireland Lecture:  Hosted by the Department of Mathematics and Statistics at Fredericton, the Kenneth Ireland Memorial Lecture Series honours the late Dr Kenneth F Ireland, Professor of Mathematics and Statistics. Dr Ireland is fondly remembered as a great colleague, a fine writer, and a skilled musician, with a profound interest in the history of mathematics; his graduate-level textbook on number theory, written with Dr Michael Rosen at Brown University, remains an internationally highly-regarded standard text.