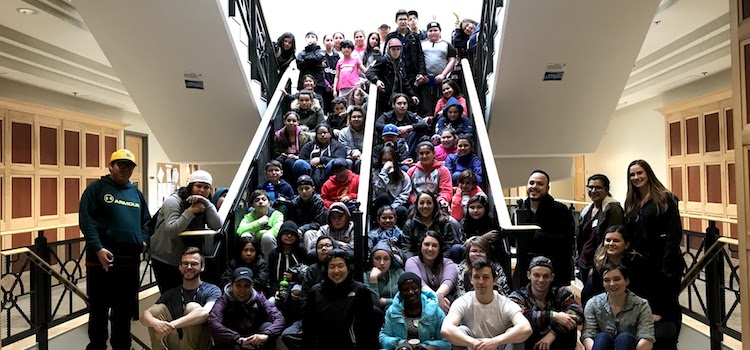 Connecting Math to Our Lives and Communities is an AARMS supported outreach initiative focussed on Mi'kmaw and African youth in Nova Scotia.  In this article, Dr. Lisa Lunney Borden (St. Francis Xavier) summarizes the 2017-18 edition of the program.
On April 7, 2018, over 57 youth from Mi'kmaw and African Nova Scotian communities Northeastern Nova Scotia arrived on the campus of St. Francis Xavier (StFX) to enjoy the annual final celebration day of Connecting Math to Our Lives and Communities, an after school, in-community mathematics outreach program that helps make mathematics meaningful to students while showing them the power of using mathematics as a tool to address problems in our world.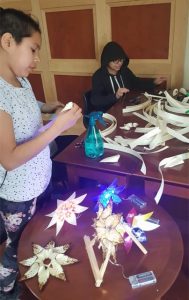 The program is led by Dr. Lisa Lunney Borden from the Faculty of Education, and Drs. Tara Taylor and Robert van den Hoogen in the department of Math, Stats and Computer Science. Ellen Carter, a doctoral student in the Faculty of Education, coordinates the program and works with community members and staff to develop high quality programming that is relevant to community needs and concerns.
Throughout the academic year, StFX students travel to each of these seven communities biweekly to engage youth in meaningful, hands-on investigations of mathematics related to their everyday lives. The final celebration day provides a culminating experience for all participants on campus at StFX. The goal of the program is to have students see the role that mathematics plays in reading and writing the world, and identify themselves as mathematicians in a way that also honors their ways of being.
The 2017-2018 academic year was the third year for this program. Topics included ocean mapping and graphing, historically and culturally situated games of chance, and impacts of climate change and melting polar ice caps as well as programming with a variety of technology, both independently and within the context of the Winter Olympics. Thanks largely in part to the support of AARMS, Connecting Math to Our Lives and Communities has seen tremendous growth since its inception in the 2015-2016 year. The initial year provided 20 sessions reaching 154 students, growing the following year with AARMS funding to 29 sessions reaching 222 students. This year, with a growing positive reputation and increased funding to support programming, four hundred forty-two participants (344 in Mi'kmaq communities, and 98 in African Nova Scotian communities) were served through 37 sessions, with positive feedback from each visit.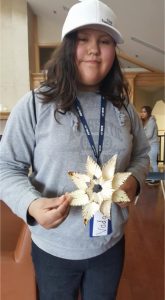 Community leader, Stacey Desmond expressed her satisfaction with the program saying, "The children greatly appreciated all the hands on activities that the staff had prepared for them. It was great for them to see role models from our local university. They connected well with the groups. We are looking forward to next year." Similarly, Mary Jane Paulette and Patricia Prosper shared "Connecting Math to Our Lives and Communities Program in Paqtnkek was very successful this past year.  It peaked interest from students of all ages including the chaperones. The kids enjoyed creating and playing with battery operated items, especially with the lights.  The sphero SPRK+ along with the iPads, and robots were also a delight since many students do not have access to such electronic devices. Being technologically aware by keeping up with electronic devices is a very important aspect in today's society.  Games such as Blokus and Kinex were important as well.  Very good year spent with Connecting Math to Our Lives and Communities Program.  The program was very knowledgeable and contributed to our learning."
Student participants provided feedback throughout the year, and consistently spoke of how fun the program was, and how they were learning both math and the connections of math to the world around them. One student explained, "I like that we learn different things and we don't do any of the things we do in math club at our school", while another said, "I liked that it pointed out the math in everyday activities. I learned that math is in almost every little thing you do. Whenever I do something musical there's a pattern." The youth reported learning not only mathematical concepts, but also connections and personal skills:
 "I learned that you can do anything as long as you put your mind to it."
 "I improved my math skills and made connections to a lot of stuff in my own life, like fractions and angles."
 "I learned that math is everywhere around us."
 "You can have fun and do math at the same time."
 "Math is all around me, even in art. That was something new I learned."
 "You use math in your daily life without knowing. Who would of known!"
 "I learned that I am good at math!"
 "I like Connecting Math to Our Lives and Communities because it makes me feel smart."
 The final celebration included morning workshops on a wide variety of topics such as teachings from community leaders and elders as well as professors, students, and the youth themselves.
| | |
| --- | --- |
| Community Elders & Knowledge Holder Workshops | StFX Students & Faculty Workshops |
| Mi'kmaw Dance | African Dance |
| Beadwork | Basketball |
| Basketry and Weaving | Technology |
| 8-Pointed Stars | Art |
| Dream Catchers | Financial Literacy |
| Wooden Flowers | Interactive Mathematical Modeling |
| African Nova Scotian Quilting | Biology Demonstrations |
| African Drumming | |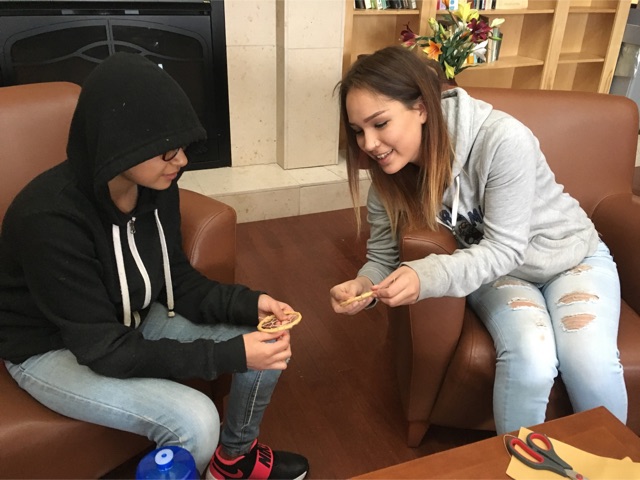 Many students "liked meeting new people and making new friends." Both participants and facilitators spoke highly of the experience that brought together communities. Each workshop was decidedly positive, mixed with disbelief "I can't believe I saw the world record smallest handmade sewing basket. It was so tiny and super cool!" Participants also enjoyed having the autonomy to choose what they wanted to learn more about. One student provided feedback that "I liked how we got to go to our own stations. I learned how to make a dream catcher."
In the afternoon, an Amazing Math Race allowed students to explore campus while learning new math concepts, collaborating with others, and consolidating what was learned throughout the program. This culminating experience has consistently been a huge hit with students, many asking for extended and expanded opportunities for future celebrations.
"The Amazing Math Race was so much fun!"
"I liked the art gallery when my team had to draw a picture on the amazing race. Everything's math!"
Connecting Math to Our Lives and Communities was awarded an NSERC PromoScience grant this year in addition to the AARMS support. The team is already planning and looking forward to another great year beginning in October 2018.